A distinct difference
service, experience, knowledge
My name is Michael Smith and I am the owner of Distinctive Wood Floors in Bend, Oregon. We specialize in wood flooring finished on site for the best fit and finish.
I started in the hardwood flooring profession a number of years ago and it has been a rewarding career choice. Everyday, we improve the look of our clients' homes. You get lots of smiles and grow into the community with referrals and lots of positive online reviews.
Education prevents problems
The wood flooring community with whom I have connected over the years has helped our business in many ways. Attending technical schools with the National Wood Flooring Association has advanced our wood floor sanding and installation projects. Certifications, conventions, and colleagues have been fundamental to our consistency. Our clients greatly appreciate our consistency in quality and long term value of our work.
Certification is essentially an insurance policy for homeowners that our workmanship and customer service will be held to a national standard of excellence established by the NWFA.
In doing your research, I'm sure you will read online how every company is the best or has been in business since the dawn of time. That sounds great, but does it really establish a benchmark of true experience?
"A typical "20 year veteran" has 1 year of experience repeated 20 times when they do not seek continuing education in their trade.".
We obtained our certifications so the "rubber can meet the road" for those clients in search of a contractor with validated experience. Friends and colleagues make the real difference in this business. I have never claimed to know everything. But, I can find the answers to my questions with one tor two phone calls should the need arise. Hiring our company reaches farther than just a small local business with sanders and saws.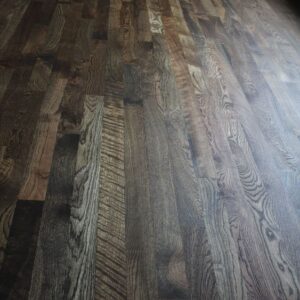 "A typical "20 year veteran" has 1 year of experience repeated 20 times when they do not seek continuing education in their trade"
A Chain of Middlemen
Carpet and Flooring Stores are NOT artisans
We work directly with consumers for the entire process of installing or refinishing wood flooring. Too often consumers make the mistake of purchasing flooring from retailers and carpet stores. Unfortunately, many customers are steered to the most profitable choice for the retailer, rather than the best choice for their needs.
We prefer to speak with you first about your vision for your wood floors. Afterwards, we propose a few suggestions and can provide samples accordingly.
From start to finish, when you hire Distinctive Wood Floors, you always deal with one connected team of professionals. There are no subcontractors or untrained employees handling your project, which simplifies accountability and communication.